I have been one busy girl! With the start of my new blog and business, I've been having a good time but I've been super busy. That being said, I haven't had time to work on any crafts :o( However, I did find these 2 recipes for pink popcorn online.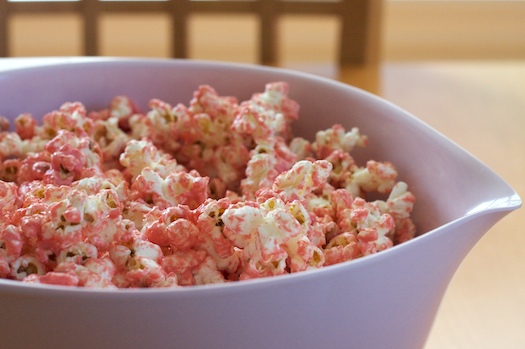 About 8 cups of Popcorn
Vegetable Oil or Olive Oil
Kosher Salt
8 ounces of good White Chocolate
Red Food Coloring
Pop a batch of popcorn, non flavored kind.
Spread the popcorn over a baking sheet lined with a silpat or wax paper. Pick out any unpopped kernels — you don't want anyone to break a tooth!
Melt 8 ounces of white chocolate until smooth. Use a double-boiler to melt the chocolate. Once the chocolate is smooth, add a few drops of food coloring, and stir to blend. Start with one or to drops to make sure you don't add too much for your desired shade of color.
Use a spoon to drizzle the melted chocolate on the popcorn, then mix with spoon to evenly distribute the chocolate. Place the baking sheet in the refrigerator for 20 minutes to allow the chocolate to harden. Serve and enjoy!
Thank you
Erin Cooks
!
Recipe # 2:
Ingredients:
3 tablespoons butter
1 1/2 cups miniature marshmallows
4 tablespoons strawberry gelatin
2 quarts popped popcorn
Directions:
1 Melt butter over low heat.
2 Stir in marshmallows until they are soft but not melted.
3 Add flavored gelatin mix.
4 Stir until everything is a nice pink color throughout.
5 (The gelatin may not dissolve completely, but that's all right.) Pour evenly over popcorn and stir until all flakes are evenly coated.
This recipe came from
Food.com
Enjoy!